One CMS: one place to manage content
If your project consists of a website, an application or interactive kiosks, you will be able to manage them from the level of one CMS. It guarantees time saving and great comfort during data update.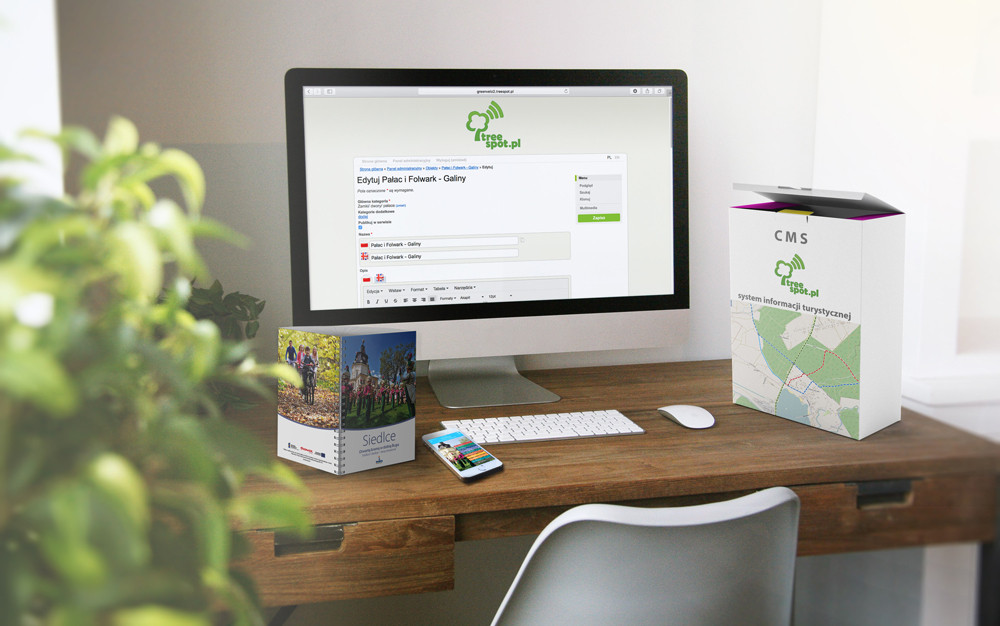 Geolocation in the field and navigation in the network of routes
Treespot Outdoor is our original IT system enabling geolocation in the field: locating of your position in relation to other places, navigation through the network of routes, etc. Treespot can operate as an independent website, a mobile application or a combination of both solutions.
Several dozen modules and functionalities
Treespot Outdoor has a dozen of modules and functionalities, e.g. maps, places, routes, objects, updates, events, "report a defect", city transport, audio-guide, outdoor games, planner, QR code scanner, augmented reality, weather and others, as needed. They have been tested many times and operate very effectively.
Intuitive maps and navigation along routes
Plans and maps have an option to map a route between any points, to navigate to a given place, the option to take the route defined earlier, and also to combine the trails being introduced. Owing to Treespot Outdoor possibilities, an application user can easily get to the defined target.
Mobile app, website, printed publication
Based on the Treespot Outdoor system, we can create a unique project for you in a short period of time. It can be a mobile application, a website, or a printed publication. Owing to our original solutions we will create a final product adapted to the needs of your region, city, and institution.
places

events

map and trails

favourite

scanner QR

3D map
public transport

weather

reservations

air pollution

outdoor games

audioguide
report a defect module

AR module with 3D models and fotoretrospection

interactive cycle paths

interactive network of trails

fire alerts system

encyclopedia of nature