Navigation inside buildings
Treespot inside buildings has a navigation module to operate inside large roofed spaces, e.g. shopping malls, airports, etc. One can map a route between two points in an object, specifying their position in relation to a given store: owing to this, an application or interactive kiosk user can easily get to a desired place. If necessary, the system can be integrated with beacons (bluetooth transmitters), owing to which user's location in an object becomes possible despite lack of GPS signal.
Interactive 3D plans
3D plans enable finding desired stores and service places; from the level of the plan, it is easy to move to an object detail. The plan has also a navigation function. It is very well optimised for mobile devices, owing to which it operates smoothly and is user friendly, and, at the same time, graphically attractive and rich in contents.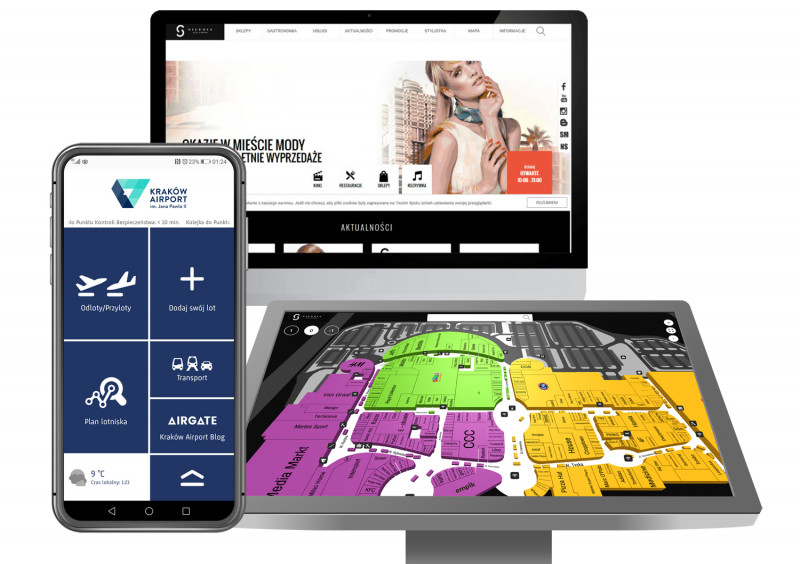 Mobile application, website, interactive kiosk
Based on the Treespot Indoor system, we will create a unique project for you in a short period of time. It can be a mobile application, a website and/or software for an interactive kiosk.
One CMS: one place to manage content
If your project consists of a website, an application or interactive kiosks, you will be able to manage them from the level of one CMS. It guarantees time saving and great comfort during data update.
Push notifications
Treespot Indoor enable an object administrator, effective communication with the user (e.g. via a pushy system), providing the most recent information about events and promotions, involving the user within a loyalty system or gift cards.
places

events

favourite

news

scanner QR

interactive 3D plans

mapping the route

push notifications

promotions

virtual wardrobe

beacon technology

virtual postcard

audioguide

loyalty program